Ronda Tours
Perched on El Tajo canyon, Ronda is set on one of Spain's most dramatic landscapes and possesses a rich history documented by ancient rock paintings, towering stone bridges, and 14th-century ruins. Today, the city's dramatic cliffs, local wineries, and rustic charm make it an ideal mountain getaway or day trip destination.
The Basics
As one of Andalucia's most beautiful and accessible white hill towns, or pueblos blancos, Ronda is a popular day trip from the region's bigger cities—Malaga, Seville, and even the coastal towns of Marbella and Gibraltar. Travelers can visit partially intact 14th-century Arabic baths beneath the city, stroll through the Islamic Old Town, enjoy fine local wines, and photograph stunning mountain vistas. A typical guided tour to the city often includes visits to El Tajo canyon, Puente Nuevo bridge, and Plaza de Toros de Ronda (Spain's oldest bullring). It's also possible to combine a visit to Ronda with stops at some of the area's other villages, such as the lovely medieval town of Grazalema.
Things to Know Before You Go
Ronda is a must-see for history buffs, photographers, and couples.

Wear comfortable shoes suitable for walking on uneven surfaces.

Shade is hard to find in Ronda; don't forget sunscreen, sunglasses, and a hat.

Day trips to Ronda from other destinations in Andalusia and the Costa del Sol last between six and 11 hours.

How to Get There
Ronda is located in southern Spain, roughly two hours by road from Seville. Daily trains connect Ronda to Granada, Malaga, and Madrid, and take between two and five hours. There are also multiple daily buses from Seville, Malaga, and Marbella.
When to Get There
Ronda's position in the mountains gives it a slightly cooler climate than the rest of Andalusia, but summer temperatures still regularly top 100°F (38°C). September travelers can experience two of Spain's most popular festivals: Feria de Pedro Romero and Corridas Goyescas.
How to Get the Best Photos of Puente Nuevo
Ronda's iconic bridge can be difficult to capture on film from the town itself. Hike down to the bottom of the gorge for stellar shots of the bridge and neighboring Parador de Ronda hotel.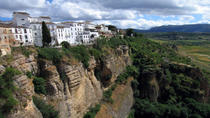 120 Reviews
Explore the mountainous region of Ronda on this relaxing day trip from Malaga. See all the highlights of the beautiful town of Ronda, including the Plaza de ... Read more
Location: Malaga, Spain
Duration: 9 hours (approx.)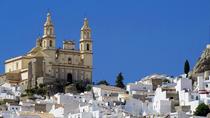 6 Reviews
Embark on a unique guided day tour and explore the countryside and mountains of the province of Cadiz and Malaga. Witness all of what this area is most famous ... Read more
Location: Seville, Spain
Duration: Flexible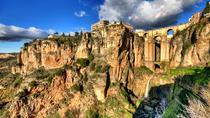 3 Reviews
Join a small group to visit one of the loveliest and most historical town of Andalucia - Ronda. See the oldest in Spain bullring, walk through famous "white ... Read more
Location: Seville, Spain
Duration: 9 hours (approx.)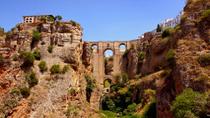 80 Reviews
Take a day trip from Seville to explore the ancient city of Ronda, where you'll enjoy tasting local wines and explore Plaza de Toros, a traditional ... Read more
Location: Seville, Spain
Duration: 11 hours (approx.)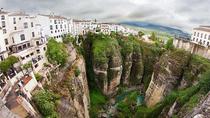 Explore the historical city of Ronda on a day trip from Malaga and get to see the countryside and mountains of the province. Discover the main landmarks and be ... Read more
Location: Málaga, Spain
Duration: 1 day (approx.)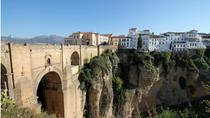 1 Review
Spend a day touring Ronda, one of the most beautiful and historic towns in Andalusia. Ronda is a mountain top city nestled on the dramatic El Tajo Gorge, which ... Read more
Location: Marbella, Spain
Duration: 6 hours (approx.)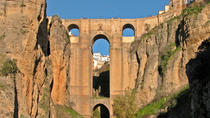 1 Review
A trip up the mountains and town of Ronda where you can visit the winery La Sangre and enjoy the tapas of the town.
Location: Gibraltar, Gibraltar
Duration: 9 hours (approx.)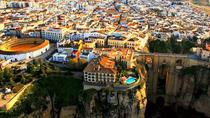 Immerse yourself in Spanish tradition during this 2-hour walking tour of Ronda, the birthplace of modern bullfighting. See some of the city's most famous ... Read more
Location: Ronda, Spain
Duration: 2 hours (approx.)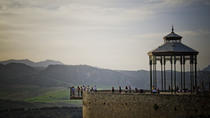 1 Review
Explore the ancient city of Ronda on an enriching full-day excursion from Seville. Immerse yourself in the authentic Spanish culture of the city as you visit ... Read more
Location: Seville, Spain
Duration: 11 hours (approx.)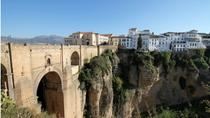 7 Reviews
Spend 6-hours with a guided tour of Ronda, one of the most beautiful and historic towns in Andalusia. It is a mountain top city nestled on the dramatic El Tajo ... Read more
Location: Costa del Sol, Spain
Duration: 6 hours (approx.)