For those interested in exploring Alaskan Native culture, Anchorage has plenty to offer. First of all, Anchorage is home to the Alaska Native Heritage Center, a cultural center and museum sitting on 26 wooded acres (10.5 hectares). The attraction features educational exhibits, traditional handicrafts, storytelling, films, Native dancing and games, activities and demonstrations relating to Alaska's indigenous peoples. One highlight of a visit is exploring the life-sized village replica, which features six dwelling recreations and represents 11 cultural groups in Alaska. You'll also be able to see artists at work as they create regalia and drums.

You can also visit the Anchorage Museum, which is home to a number of exhibits and collections relating to Alaska Natives. The Smithsonian loaned the Anchorage Museum hundreds of indigenous Alaskan artifacts, which are on display in the new Smithsonian Arctic Studies Center. Within the collection, the main exhibition is Living Our Cultures, Sharing Our Heritage: The First Peoples of Alaska, which features 600 hand-selected artifacts -- some of which include a 893 Tlingit war helmet and a 1935 Inupiaq feast bowl from Wales -- that are interpreted with help from Alaska Native advisers. Within the exhibits relating to Alaska's history you can also find permanent exhibitions like Alutiiq and Aleut/Unangan History and Culture; Northwest Coast Indian History and Culture: Tlingit, Haida, and Tsimshian; and Athabascan Indian History and Culture. Additionally, don't leave without viewing the beautiful works of Alaska Native artwork.

Another way to explore Alaskan Native Culture in Anchorage is by perusing and purchasing Native artwork. Along with visiting the gift shops in the two above-mentioned museums you can head to the Alaska Native Arts Foundation Gallery. This fine arts gallery features traditional and contemporary Alaska Native artwork, allowing you to explore indigenous culture through artwork. A number of annual events also allow you to explore Native artwork, some of which include the Alaska Native Arts and Craft Fair; Native People's Bazaar; Alaska Native Heritage Center Holiday Bazaar; and the Charlotte Jensen Native Arts Market.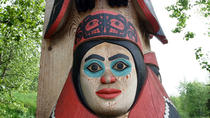 45 Reviews
On this guided city tour, see top Anchorage attractions including Lake Hood, Bootleggers Cove, Earthquake Park and the Port of Anchorage. Enjoy views of the ... Read more
Location: Anchorage, Alaska
Duration: 3 hours (approx.)