Petra Tours
Petra is a highlight not just of Jordan but of the entire Middle East, a sublime and mysterious city that sits as an incomparable jewel of ancient architecture. Petra was once an important stop on a Roman trading route, but was only assimilated into the empire in 106 AD. Until then it had been a stronghold of the Nabataen Arab kingdom, whose knowledge of Greek architectural styles is reflected in their astonishing cliff-bound monuments. Today Petra is a UNESCO World Heritage site.
Approaching through the long, narrow chasm, or Siq, you come face to face with the graceful columns of the magnificent Treasury, Petra's most-photographed building. Like almost all structures here, it wasn't built but rather carved out of the pink-hued rock, which means the interiors are usually modest in comparison with their grand facades. Further sights at ground level include an 8,000-seat amphitheater, numerous tombs and the triumphal arch of the Temenos Gateway.
Climb to higher ground and you'll find an open-air site of ritualistic sacrifices, the huge Monastery and the Triclinium, or Feast Hall, which has the best of Petra's few surviving decorated interiors.

Practical Info
Petra is 150 miles (240 kilometers) south of Jordan, near the town of Wadi Mousa, where there is a variety of accommodation. A stay of at least two days is recommended.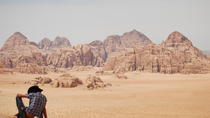 3 Reviews
This 3-day group tour of Jordan leaving from Jerusalem will take you to all of the highlights of Jordan including Petra, Wadi Rum, Amman Citadel and Jerash. ... Read more
Location: Jerusalem, Israel
Duration: 3 days (approx.)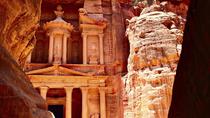 12 Reviews
This tour will take you on an adventure that you will never forget, through the mountains to see Petra in all of her glory. Petra, one of the seven wonders of ... Read more
Location: Eilat, Israel
Duration: 1 day (approx.)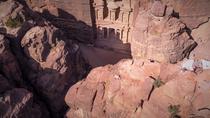 4 Reviews
Explore Jordan's most mesmerizing sight, the UNESCO World Heritage Site of Petra, on this 10-hour private day trip from Amman or the Dead Sea. See the Siq, ... Read more
Location: Amman, Jordan
Duration: 10 hours (approx.)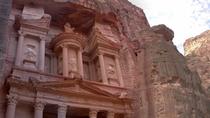 Tour Petra from Jerusalem including internal flights, and transfer from your hotel. See the famous Treasury, that made Petra famous. Walk through this amazing ... Read more
Location: Jerusalem, Israel
Duration: 16 hours (approx.)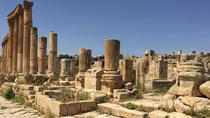 1 Review
This five day tour gives you a great opportunity to see the highlights of Jordan. Start with a panoramic tour of Amman center, downtown with its Roman Theater, ... Read more
Location: Amman, Jordan
Duration: 5 days (approx.)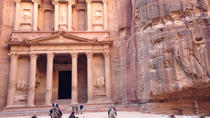 4 Reviews
A magical day tour in Petra. Choose any date and enjoy a beautiful tour to Petra with pro guides. Pickup/drop off from any hotel in Eilat. Departures every day.
Location: Eilat, Israel
Duration: 12 hours (approx.)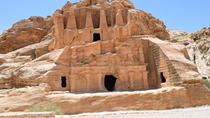 This is a 12-hour day trip to Petra for those who have a limited time to stay in Jordan. You will have approximately 6 hours to visit Siq, Petra Treasury, and ... Read more
Location: Amman, Jordan
Duration: 12 hours (approx.)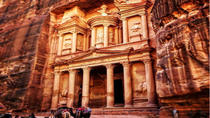 1 Review
Join this private shore excursion Aqaba to explore Petra, one of the Seven Wonders of the World, and one of Jordan's most enchanting Archaeological sites. ... Read more
Location: Aqaba, Jordan
Duration: 8 hours (approx.)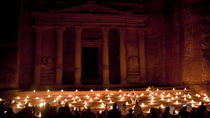 4 Reviews
A romantic way to see Petra. The Petra by Night tour is not your typical sound-and-light show. There are no colored laser beams, no booming amplified music or ... Read more
Location: Petra, Jordan
Duration: 2 hours (approx.)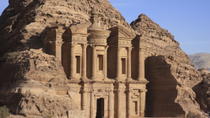 2 Reviews
Rewind more than 2,000 years in time on this private full-day trip to Petra from Aqaba! Pass by Little Petra the Nabatean's carvan stop before heading to the ... Read more
Location: Aqaba, Jordan
Duration: 8 hours (approx.)